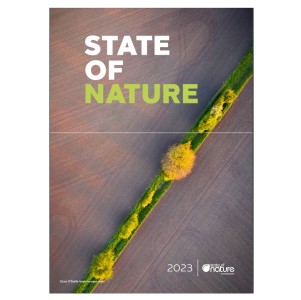 Landmark report shows UK wildlife's devastating decline.
World-leading study, State of Nature, finds no let-up in the decline of our wildlife, with one in six species at risk of being lost from Great Britain.
State of Nature, the most comprehensive report on UK wildlife, also shows that the species studied have, on average, declined by 19% in the UK since monitoring began in 1970.
Most of the important habitats for the UK's nature are in poor condition, but restoration projects can and do have clear benefits for nature and people, as well as climate change mitigation and adaptation.
The UK's wildlife is continuing to decline according to a new landmark study published today. Already classified as one of the world's most nature-depleted countries, nearly one in six of the more than ten thousand species assessed (16%) are at risk of being lost from Great Britain.
However, this figure is much higher for some groups such as birds (43%), amphibians and reptiles (31%), fungi and lichen (28%) and terrestrial mammals (26%). Much loved species such as Turtle Dove, Hazel Dormouse, Lady's Slipper Orchid and European Eel now face an uncertain future. There have also been declines in the distributions of more than half (54%) of our flowering plant species, with species such as Heather and Harebell being enjoyed by far fewer people.
Producing the report
State of Nature is the most comprehensive nature report covering the UK, its Crown Dependencies and Overseas Territories. Working with leading professionals from over 60 research and conservation organisations, the report – following previous editions in 2013, 2016 and 2019 – uses the latest and best data from monitoring schemes and biological recording centres, collated by the incredible work of thousands of skilled volunteers, to provide a benchmark for the status of our wildlife.
Impact of recording
Nature's recovery depends on the collection of wildlife records – information about what species have been seen where and when - so that we can measure and see if our conservation actions are working or not. In the UK, the collection of these vital records predominantly relies on an incredible community of organisations and volunteers including users of iNaturalistUK
As an iNaturalistUK user your recording effort adds to the knowledge of this country's biodiversity and which species are in particular danger - needing our urgent help and protection